What to look for from a dentist in Fulham: Our Guide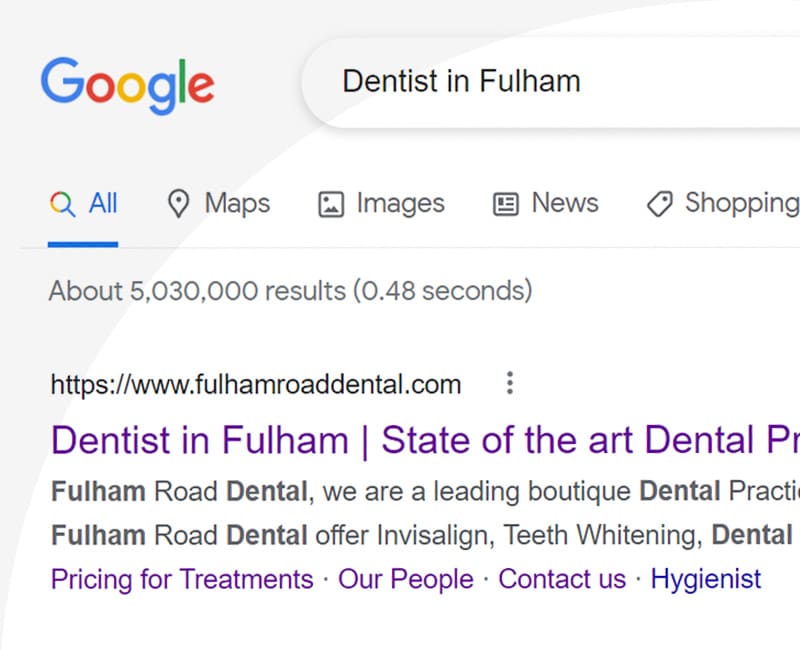 Whether you have recently moved, or your current dentist is not a good fit or perhaps you simply require more complex procedures, there are a lot of reasons to look for another dentist. Whatever the specifics, choosing another dentist is not necessarily an easy process; there are a lot of factors to consider. Therefore, before you register with the first dentist you come across, it is worth doing a little research and asking the right questions. Otherwise, you are doomed to repeat the process over and over again until you do.
The Location
Most people only go to the dentists a couple of times a year, and so you might think that the location is not that important, but it is. Depending on the outcome of your check-ups, you might need additional treatments, which requires more visits. Think about how far you are willing to travel, either from your home or your work. If you drive, then this might open up your possibilities a bit more; otherwise, you might want to think about dental practices which are along your bus route or easily accessible by public transport. For example, Fulham Road Dental, a Dentist in Fulham, have a bus stop that is virtually outside of their practice.
Think about when you are most likely to make appointments. Will it be during the week, either after work or school or during the weekends when you have more free time? Taking these factors into consideration can help you narrow down your options and decide what would be the most practical for you. Once you have a practical radius, you can begin to check out each dentist within the area, look at their opening times, transport links or car parking and their level of accessibility.
People travel very far to see our clinicians, but make sure you are also prepared to do so if you live far away!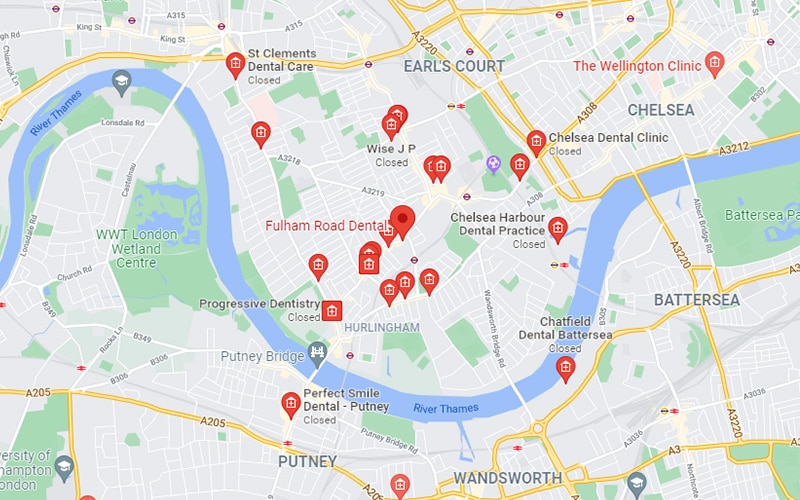 Recommendations & Reviews
Once you have narrowed down your list further, it may be worth asking your friends and family if they attend any of the dentists on your list or whether they have any experience with them. Listening to your friends and family's recommendations can help you to come to a decision. In addition, they can provide you with an insight into their patient procedures, bedside manner, and cost. These first-hand accounts can be invaluable.
If you don't know anyone personally who has experience with your options, you can always look online. The different dental surgeries should each have their own website to peruse, which offers a great starting point. First, check to see whether they have patient testimonials on their website or any before and after pictures. After you have checked these, you can look online and check google reviews. However, you should take these reviews and the ones listed on the website with a pinch of salt; you have no way of verifying them and how truthful they are.

The Treatments Offered
While most people are simply looking for a good general dentist, it is worth considering your long-term wants and needs. For example, do you have any goals for your smile? Maybe you want whiter and straighter teeth. Maybe you struggle occasionally with a toothache or sore gums. Whatever your goals for your teeth, no matter how gradual they are, it is worth finding a dentist who could help you to achieve them. It is definitely worth looking into what services or treatments they offer.
Most dental surgeries today do offer the full spectrum of treatments, or at least most of them. That being said, a good dentist should be able to recommend the best course of action for you and tailor your treatment plan accordingly. Above all else, your oral health should be prioritised. You should be able to find out more information on the treatments that they offer from their website.
Scout Out the Practice & the Team
Once you have narrowed down your choices to two or three options, you might want to make an effort to visit them in person. You can gain more of an insight, and first impressions do count for a lot. You should not necessarily judge a book by its cover; you should be willing to overlook some more minor, aesthetic factors that aren't to your tastes. The main thing is that the practice is tidy, clean, and well-organised. The team should make you feel welcomed and comfortable. The front of house team and their behaviour can often be indicative of the treatment that you can expect from the dentists themselves too.
If you are a nervous patient or if you have a fear or phobia of the dentist, then you can use the visit as an opportunity to ask what systems are in place to make you feel more comfortable. For example, some dental surgeries have more experience dealing with people's fears and phobias, and they are better able to put them at ease. Then, of course, you can ask them any other questions you may have too.

Professional Registrations, Accreditations & Awards
All dentists or dental professionals of all natures, from hygienists to nurses to technicians, must all be registered with the General Dental Council or GDC in order to work in the UK. The GDC is the regulating body used by dental professionals in the UK. You can use their website to check whether or not your dentist is registered and to view their qualifications. The GDC also provides a breakdown of the kind of standards that you should expect from your dentists.
You may also want to check out the dentists individually to see their qualifications which some dental practices list on their website. Knowing that your chosen dentist is highly qualified can help to alleviate some of the stress and anxiety that most people experience from attending dentists. You may find that your chosen dental surgery has additional accreditations, too; for example, Fulham Road Dental is an award-winning dental practice. In the last year, they won the award for Best New Practice as voted by a panel of their peers.
In Conclusion
Finding the right dentist can truly be transformative for your oral health and your self-confidence. Unfortunately, most people aim to find a dentist that they can stay with for years to come, which is why doing your research is vital. You need to find a dentist that not only offers great service but one that genuinely makes you feel comfortable too.