Fulham Road Dental – Continued Professional Development for Dentists

CPD event – 13 August 2021
Fulham Road Dental opened in May 2021 with the objective of providing patients with a differentiated dental experience by creating a warm and calming practice setting where industry-leading dentists can provide patients with exceptional dental care.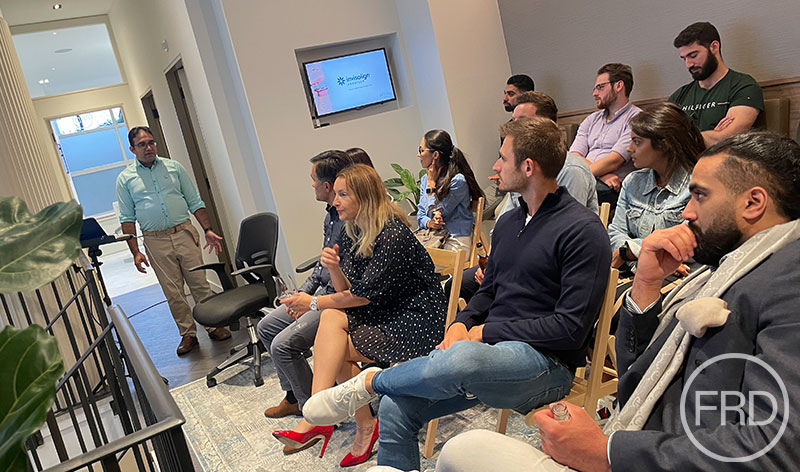 As part of our objective of providing patients with best-in-class care, we believe that it is important that our clinicians provide ongoing support and training to the broader dental community. As a result, on Friday 13 August Fulham Road Dental ("FRD") hosted its first Continuing Professional Development ("CPD") event for dentists. The event was hosted by Dr. Munir Ravalia and was titled:
"It's all in the mind"
Treatment of anxious and nervous patients, By Dr. Munir Ravalia and Fulham Road Dental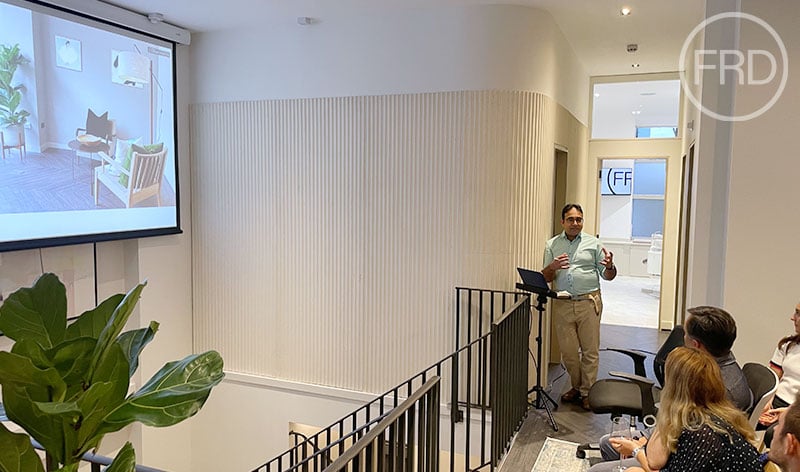 The event proved to be incredibly popular with the number of attendees having to be capped at 20. Attendees included experienced dentists, students, and new graduates (and even a couple traveling all the way from Plymouth just for the evening). The principal objective of the CPD evening was to create an opportunity for dentists to network and share work experiences in a relaxed and informal setting whilst at the same time benefiting from the experience of Munir in dealing with anxious patients.
Dr. Munir Ravalia is very experienced in dental sedation treating anxious patients with intra-venous sedation, and inhalation sedation. As a longer-term solution Munir will also spend time with patients using therapies that may consist of Cognitive Behavioural Therapy and hypnosis to find out the source of patient's anxieties and work through them.
Munir's presentation covered the following areas:
Understanding why patients are anxious
Understanding what psychotherapeutics are
Understanding the Nocebo effect
Understanding the continuum of clinical hypnotherapy
Identifying the appropriate application of Deep Relaxation Techniques in the clinical dental setting
Knowing how to introduce relaxation to patients
The highlight of the evening was undoubtedly the moment Munir hypnotised one of the attendees. Following the formal remarks, the event was an opportunity for the attendees to get to know each other better over drinks, light snacks, and some music.
In keeping with supporting the local community, the snacks were provided by a Fulham Road-based Lebanese bakery, Ta'mini (https://www.taminilebanesebakery.com/), which is a local family-run bakery. The snacks proved to be very popular with attendees being treated to a taste of Lebanon with traditional Manakish, Ka'ak, Mini bites and cold mezze, all made from the very best Lebanese ingredients.

The wine was provided by Lea & Sandeman Wine Merchants, a local wine merchant. Lea & Sandeman have been regular supporters of FRD. If the time the event finished is anything to go by then the drinks proved extremely popular amongst everyone with some attendees likely struggling with heavy heads the following morning.
Each attendee was given a CPD certificate that entitles them to earn CPD credits which counts towards their annual requirement. FRD plans to host the CPD events on a regular basis going forward as a way of continuing to share experiences with the broader dental community whilst providing opportunities for clinicians to network and earn their required CPD credits.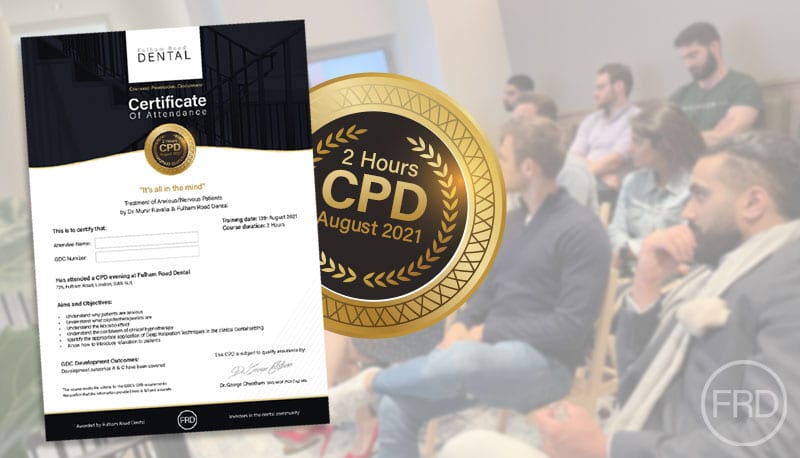 Our special thanks to all those that attended and the very generous feedback we received regarding the evening. Without your attendance and participation the event would not have been the success it was. We look forward to hosting you in the future again.
Many thanks
The Fulham Road Dental Team